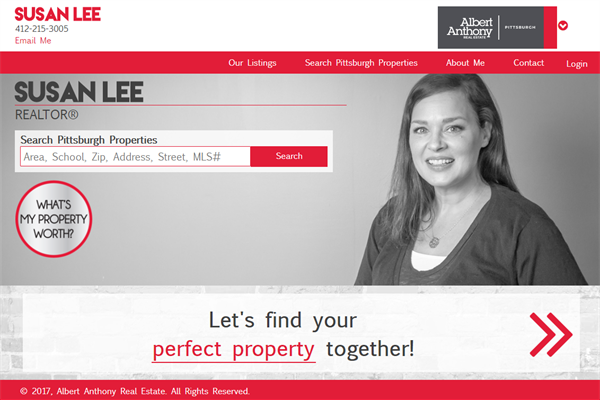 After having upgraded their broker site to ListingManager™ 4.0, the Albert Anthony principals decided to offer agents their own IDX websites under the albertanthonyrealestate.com domain. This is a relatively new possibility under the West Penn Multi-List rules, and we were happy to empower their agents with fully-function IDX sites.
The Albert Anthony team decided to establish a standardized template for agent sites. The design reflects the color scheme and imagery of the broker site, but all of the features benefit the agent. All leads from listings and contact forms are sent directly to the agent, so all of their efforts to market their site benefit themselves directly.
Agents can purchase their own domain name and have it forwarded to a subdomain of the brokers site, in compliance with West Penn Multi-List requirements.
The Albert Anthony Real Estate agents who have signed on for their own agent site enjoy benefits such as:
Receiving all leads from the site, including listing information requests and property valuation leads
Ability to customize the information on their About page or add other content pages to help showcase their expertise
A pre-designed homepage template to make the process quick and easy
Ability to feature their own reviews, if desired
Links to their own social media, if desired
Photo galleries to showcase previously sold properties or real estate photography skills
Ability to update their own site content easily through our content manager
Agents must work with their broker to obtain an agent site.

View an example of an agent site at http://susanlee.albertanthonyrealestate.com.