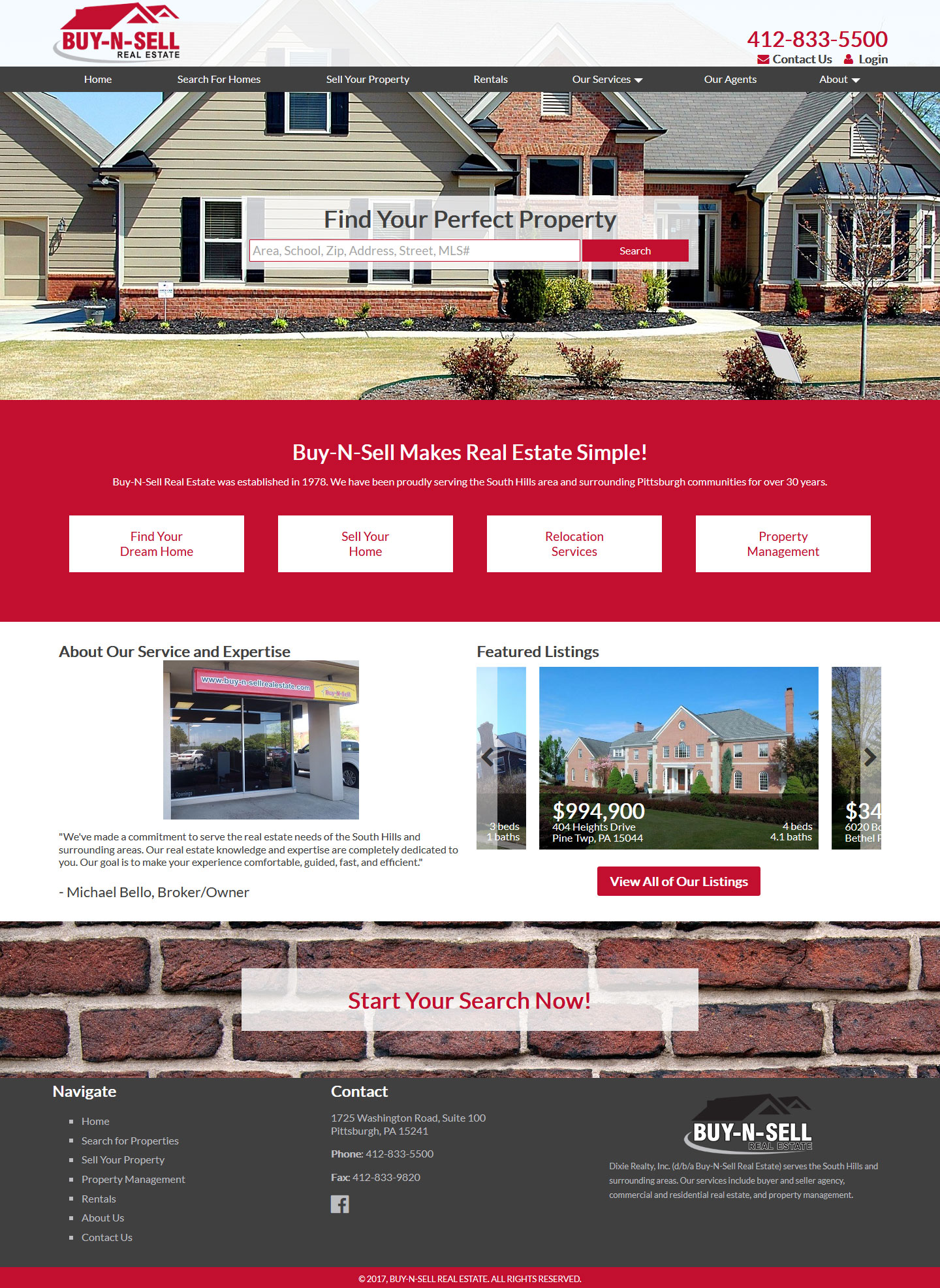 Buy-N-Sell Real Estate, established in 1978, has been a client for many years. But with the passage of time, their website had come to look dated and unfriendly. The client told us that his old website "looked like the 80s, like I-Want-My-MTV, like a mullet." He was ready for a cosmetic and functional upgrade.
Www.buy-n-sellrealestate.com is now fully mobile-friendly, user-friendly and features a clean new design. The homepage features a quick search function and four large buttons to help users navigate the site at a glance. The homepage features a slider showing all of the agency's listings. Each of the agency's services -- buying, selling, relocation and property management -- received a content page with a form to help capture more leads.
But the crown jewel is the IDX property search page. We've created a map-based search to pull and display data from the West Penn Multi List. Listings appear as different-colored map points to show what type of property they are, and users can refine their search based on location, price, beds, baths, property type, acres, parking and more.
Users can click on a map point or on the list of properties to get more information, see more pictures, calculate driving distances and mortgages, and easily contact the broker about seeing the property. New login and account features allow the user to save their location and mortgage details, save and hide properties, save searches, and share properties with friends.
Real estate agents and brokers benefit from having multiple contact forms throughout the user experience, which helps capture more leads. Buyers benefit from having a clean, easy, interactive way to search for the perfect property. Sellers benefit from knowing their listings are presented by their agent in the most modern and effective ways possible on their site.
See the full site at here.