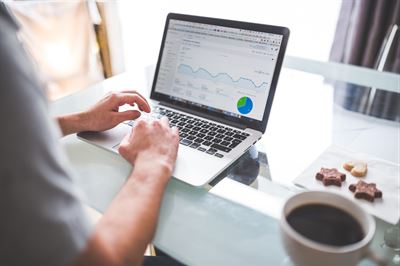 Are you using Analytics to make smart marketing decisions?It's still early enough in the year that we're posting one of those "what to expect in 2019" blogs. BUT, this is a really important one. SEO (Search Engine Optimization) is a super crucial part of your website and brand success online. This year, Google is shaking up how they factor page rankings, so it's time to check in on your current SEO efforts.
Mobile is King!
This one shouldn't be a huge surprise when you consider that mobile usage surpassed desktop in 2016 and has only increased since. Today, American users spend an average of twice as much time browsing on their mobile devices as from a desktop. And considering that most of us only browse desktops when we're at work (strictly for business, right?), it's no wonder that Google is giving mobile first place in 2019.
Beginning last year, Google shifted to indexing mobile sites first, rather than desktop. This is a big deal because Google's indexing of a site is what allows it to determine how to rank your site, what queries and keywords you should appear for, and more. While only having a desktop site won't knock you out of Google's indexing, it'll definitely be harder to rank well.
What this means for you:
Make sure that your website is mobile friendly. At the bare minimum, you'll want to have a desktop and mobile version of your site. It's better is having a responsive design so your site displays properly for all browsers and devices - desktop, mobile, and all the tablet gray-areas in between.
Full Speed Ahead
Much like the great Ricky Bobby, users wanna go fast! Google focuses on providing the best user experience at the top speeds possible. If your site doesn't load fast enough, Google will move onto the next. And if Google moves on, so do your potential customers.
Google's standalone speed metric is still fairly new. In the past, your speed scoring was focused more on overall optimization. But Google recently added scoring based only on your site's load speed, calculated from real-time data from all users. This is good and bad news. Since the speed score is still new, it's not going to tank your ranking...yet. And optimizing your site to load quickly is nothing new, so the speed metric could reward those efforts.
What this means for you:
You'll want to check on your site's speed and see where you can improve. Google's PageSpeed Insights is a great place to test your site. You can also talk to your site manager to find out more about what can be updated or adjusted to feed the need for speed!
Aim for Featured Snippets
Whether you knew it or not, you've probably seen and used featured snippets. Featured snippets are the excerpts perched at the very top of your search on Google...above the top ranking results. Featured snippets aren't always pulled from the top result either. They're generally pulled from the first page of results, and get this special priority if they're formatted in such a way that Google can find a short answer for the user's query.
What this means for you:
If you have content pages, especially blog posts, that are already landing on the first page of certain searches, take a few extra minutes to add a brief answer or outline at the top of your post (like what we do with our Bottom Line and Do This). This will help Google skim and process your article quicker and more accurately! If you're writing new content, add in featured snippet sections right from the start to help you rank higher faster.
Brand Reputation
You 100% should give a darn about your brand reputation, especially online. Your brand reputation or rank with Google directly relates to your site's success on all of their platforms. Brand ranking on Google used to rely on backlinks - links from other, outside sources, to your site. However in 2019, though backlinks are still important, they're not the be-all-end-all.
Now, Google looks at both linked and unlinked mentions as well as overall site traffic. Linked mentions means backlinks - which is the traditional method of increasing your ranking. The more reputable sites that direct people to you, the more credibility your site gains.
Note: the key to successful backlinking is reputable links. In the past, people tried all kinds of shady linking schemes to skirt this requirement and boost their rank. But Google's advanced AI tools are far too smart for that nonsense now. Paying for backlinks from less-than-trustworthy sources can get you blacklisted. So don't do it!
Google also now looks at your company across all platforms it has access to for mentions of your brand. This means that your social media presence or reviews on platforms like Yelp or Zillow come into play when determining your ranking. They also consider overall traffic to your site, no matter how people get to it.
What this means for you:
The more you get your name out there, the better! Whether people are coming to your site through Google searches, from social media, entering your URL, or clicking in from your emails, all of your online efforts will help build your credibility! First and foremost, make sure your Local Listings are claimed and correct. Reviews on Google, Facebook, and other platforms, are also a great way of building your reputation with potential customers and Google. So don't forget to get those testimonials from satisfied clients!
Quality, not Quantity
Yes, we know we mention this a lot. BUT Google backs us up, so we must be right! Quality, not quantity, is the key to a successful content strategy. Early websites could raise their ranking by churning out tons of low-quality content. Today, however, through Google's advanced AI capabilities, sites are ranked based on the quality of their content more how much they have. Google determines what "quality" content is using the E-A-T standard, which stands for: Expertise, Authoritativeness, and Trustworthiness.
What this means for you:
There are tons of articles with deep-dives into what each EAT category means and how you can play to them best. The simplest answer is what Google's search liaison Dan Sullivan told concerned Twitter users when this update went into effect: "Want to do better with a broad change? Have great content."
It's that easy. Don't try to write for what you think Google wants. Produce content that will be of value to buyers, sellers, investors, renters - whoever your market is. If they're happy and turn to you as a resource, Google will take note and your ranking will reflect it.
Lock it Down!
If we learned nothing else in 2018, we finally know the cost of all of these free online platforms: our data. In light of Facebook's numerous scandals and the EU's GDPR implementation, data safety and security will continue to be a major focus this year.

This warning may show up on your website if you don't have HTTPS.For their part, Google has started putting increased focus on sites needing to have HTTPS (SSL certificates installed on your hosting encrypt the data between your server and your visitors). If you've visited a site through Google Chrome or Firefox browsers that wasn't HTTPS, you may have noticed a red warning label telling you that the site wasn't secure. For a lot of users, that warning may as well say "turn back now!" With an endless stream of hacks and breaches, users are less and less likely to stay on a site that warns them of a security error.
What this means for you:
If your site isn't using HTTPS, you're going to want to talk to your site manager. Google is making HTTPS the new standard in 2019, which means sites without it will suffer. And ultimately, taking this extra step to protect users on your site is just good business.
SEO on Google...and Beyond
Finally, most information you'll find about SEO is based primarily on Google. While this makes sense (Google makes up about 75% of the search engine market share) other search engines do exist and are in use every day.
What this means for you:
Luckily, all search engines use similar techniques to rank sites. So if you're setting yourself up to succeed on Google, by extension you'll be set up to do well everywhere else. A lot of 2019 SEO advice may also mention the need to have a presence on Amazon, since more and more people use them to research products. For service-based industries like real estate, however, Amazon isn't much of a concern.
Bottom Line
The bottom line is simple: make sure your site functions well for your customers and target audience. If your focus is first and foremost on providing a site that's easy to use and a reliable resource, your SEO will be at a good baseline.
Remember that SEO is a marathon, not a sprint, and there is no silver bullet. But of course, if you're overwhelmed by the very idea of SEO or aren't sure where to start, we're always happy to answer your questions.