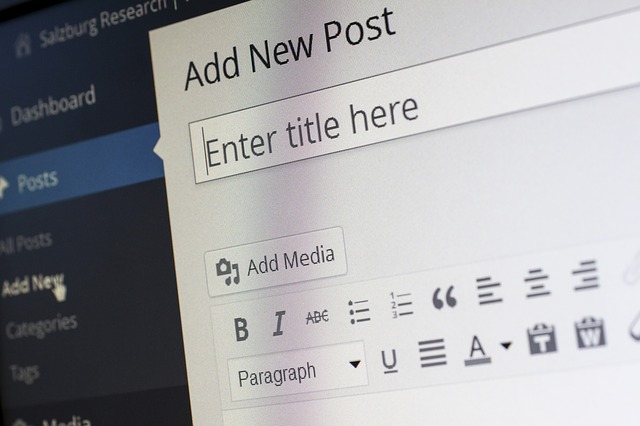 Each blog post is a building block for your overall real estate marketing plan.So it's fair to say that we're big content advocates. We've covered some of our best tips for writing stellar content and why having strong content is essential on your website before.
You may have noticed that one major theme in all of our suggestions for social media, content marketing, site building, and more: you need to have a blog.
Cue the groan. We get it, the last thing you want to hear is that you need to add writing a blog to your already full plate. But having a blog is the cornerstone of all other marketing efforts. Seriously!
Why do I need a blog?
Let's start with the obvious: why do you even need a blog? Blogs have a lot of major marketing benefits that make them well worth the time and energy you put in.
First and foremost, they build your credibility. Even if casual users aren't reading through all of your posts, the presence of a blog tells them that an actual human being is managing your company and paying attention to the website. And by writing about your industry knowledge, visitors can see that you're a savvy professional who knows what they're talking about. That will help build your reputation and encourage them to work with you.
Blogs are also great for making your site easier to discover. Sites with numerous pages of quality content give Google and other platforms a better idea of what your site is about. This also means that a blog is a great way to boost your site's SEO.
A blog is still one of the best ways to boost your organic SEO. Having useful content on relevant topics in your industry and area means there's more for Google's bots to crawl through. The more high-quality content you have, the more Google is able to understand your site and show it to the right people.
Another great use for blog content? Sharing on social media! If you're regularly posting to Facebook or LinkedIn, having blog posts give you an easy content option that is designed to drive people back to your site (which should be one of your top goals).
Sounds like a lot of work...how would I make time for this?
"Sounds great, but I don't have time to write," you ask. We get it! Blogging seems like a daunting undertaking to add to your already busy schedule. But it doesn't have to be a stressful undertaking! One easy way to make blogging (and writing in general) less time-consuming is to make it a habit. Try to set a regular blog writing block on your schedule. It doesn't have to be long or complicated. Maybe you have 30 minutes twice a week, or an hour or two once a week. Whatever works for you, just be sure to stick with it.
If I'm taking the time to write, what would I do with all of this blog content?
Like we mentioned already, social media is a great way to promote your blog. And blogging is an easy way to build in social media content. It's a win-win for both platforms! On Facebook, LinkedIn, and Twitter you can share links to your content directly. For Instagram, trying using the link in your bio to direct visitors to your latest post.
Another great use for blog content is in your email marketing. If you send a newsletter, include links to relevant posts. Even when you're sending emails to a new lead, include links to relevant blog posts to help answer questions they may have. This is helpful for the lead and shows them that you're an established professional whom they can trust.
Okay, but what would I even write about?
Ah yes, the dreaded blank page. Staring at an empty document can stump even the most seasoned of writers. The good news? You don't need to write the next great American novel. Blogs are first and foremost about sharing your knowledge. So write about what you know!
As a real estate professional, you're heavily connected to the community. This means you can write about local events, neighborhoods, and other useful things that readers might want to know about the area you work in.
People visiting your site also want to know about you as a person if they're considering working with you. So add some personality to your blog! Do you have a cool hobby? Share your knowledge! Are you a music fan? Then write about the latest shows you've seen. Find ways to integrate your area and industry insights with things you love. It'll make writing easy (and enjoyable)!
A few technical notes on blogging…
What if you don't have a blog? If you're a ListingManager client, just ask us and we'll turn on the blogging feature for your website. If your website is run off of a platform like Wordpress, you likely have a blog function built in.
If your website does not have an on-site blogging function, don't run to a third-party blogging system like Blogger. Blog entries published outside of your own website won't help your SEO and won't build your credibility. (One exception is if you have no website whatsoever, because having a blog site is better than having no online presence. But we'd still recommend getting a real, dedicated website instead of just a blog.)
If you don't have direct access to update your website, it might be time to switch to a new vendor. We firmly believe agents and brokers should be able to update their own website on the fly, without having to wait for a support team to do it for them! Email kr@joyceinc.com if you want to get control over managing your own website.
Bottom Line
Having a blog on your website has a ton of benefits. From growing your site and boosting your SEO to demonstrating your expertise and credibility, blogging sets up a foundation to smart marketing.
Ready to get started but still not sure what to write about? Then stay tuned for our deep dive into 8 amazing topic areas for you to pull from!