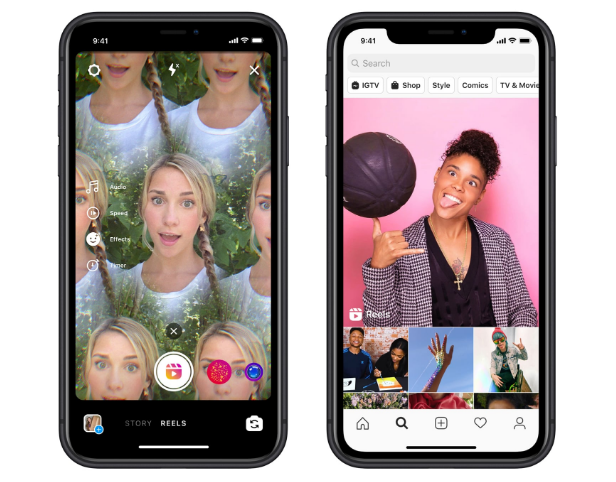 1 billion people use Instagram every month.
Nope, not a typo. That's 1 billion monthly active users.
When Facebook bought Instagram in 2012, the image-sharing app became an absolute juggernaut. Instead of relying on lo-fi images and pictures of food, Instagram began releasing new features that directly competed with other social media networks. To thwart Snapchat, it released Stories. To thwart Youtube, it released IGTV.
Now, Instagram is taking on its newest competitor: TikTok. TikTok is a video-sharing app that gives users easy tools to edit video, sounds and effects. With 800 million monthly active users, TikTok is making headway on Instagram.
On August 5, Instagram released a new feature that emulates TikTok's short video format and editing tools. The new feature is called Reels and is now available to all users.
How to Use Reels
Open the Your Story camera in Instagram and select Reels. You'll see a variety of editing tools on the left side of your screen to help create your reel, including:
Audio: Search for a song from the Instagram music library. You can also use your own original audio by simply recording a reel with it. When you share a reel with original audio, your audio will be attributed to you, and if you have a public account, people can create reels with your audio by selecting "Use Audio" from your reel.

AR Effects: Select one of the many effects in our effect gallery, created both by Instagram and creators all over the world, to record multiple clips with different effects.

Timer and Countdown: Set the timer to record any of your clips hands-free. Once you press record, you'll see a 3-2-1 countdown, before recording begins for the amount of time you selected.

Align: Line up objects from your previous clip before recording your next to help create seamless transitions for moments like outfit changes or adding other people into your reel.

Speed: Choose to speed up or slow down part of the video or audio you selected. This can help you stay on a beat or make slow motion videos.
After playing around with these effects and tools, you're ready to publish your first Reel!
What should you post?
The hardest part of using Reels is figuring out what you want to post! Our first recommendation is to watch trending Reels to see what works. You'll get a feel for the type of content, even outside of real estate, that people want to watch.
After you've gotten familiar with the 15-second-video format, try your hand with these types of content:
Property highlights: short clips of your listings with a cool song overtop of it and add some trending hashtags.
A behind-the-scenes look at the daily life of a Realtor.
Quick interviews with your team.
Engage in trends and challenges.
Kids, pets, dancing, and anything humorous will do well in this short-video format.
Of course, remember to stay on-brand for the type of clients you want to attract. You don't want people to think you're too silly or care-free to handle their serious business, so it may be wise to bounce ideas off of your team before hitting "publish."
Bottom Line
Get ahead of the curve before other Realtors discover Reels. Be a trendsetter and you'll make a name for yourself in this new space. Remember, your clips don't have to be cinema-quality or super refined. People just want to see real, fun, quirky videos that make them smile or pique their interest. Have fun!