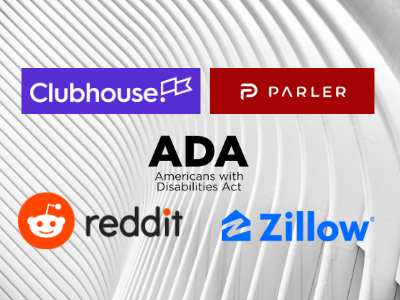 Just when we think we have a handle on things, the digital world decides to shake things up.
We keep an eye on new tools, trends and technologies via several Facebook groups. (Shout-out to Empowering Women in Real Estate and Lab Coat Agents in particular.)

A few weeks ago, we started seeing comments pop up that left us asking...
We had to take a moment to sift through some of the comments and realized - there's a LOT happening in the world of digital marketing so far in 2021!
Let us unpack some of the new trending topics you might have questions about. Here's what we learned.
Zillow is now a brokerage.
Zillow announced that it was becoming a brokerage in September 2020. But it looks like they're actively making changes with the flip of the calendar.
Agents have reported glitches in their review and sold data. Zillow stated that this is a temporary issue as a result of their switching to the MLS feed. If you notice an error that persists for more than 24 hours, contact Zillow. But no, Zillow is not trying to sabotage you.
Zillow might be allowing buyers to self-tour. Agents are split on whether this is a good idea or a terrible, horrible, no good, very bad idea.
Many agents are reevaluating their ad spend with Zillow. They see Zillow as a wolf in the henhouse, and don't want to pay a competitive brokerage for leads. We recommend doing your research and making an informed decision based on your market and priorities.
Clubhouse is the new platform agents are clamoring after.
EVERYONE is talking about Clubhouse right now. I haven't seen this much demand for something since the 90's Beanie Baby craze.
According to Social Media Examiner, "Clubhouse is a live audio app that allows people to listen to or actively participate in live discussions. Nothing is recorded. When the room ends, that conversion is gone forever. It's like a never-ending conference covering eclectic topics. You just enter a room and start listening."
There are two catches:
The app is available for iPhone users only right now. We Android users haven't been able to give it a shot yet.
The app is invite-only, so you have to be part of the in-crowd. If you want an invite, you might be able to score one from a Facebook group.
Clubhouse could be a great way to interact with other agents throughout the country, expand your knowledge of the industry, or show your expertise on real estate topics.
Parler... we have to address it.
Parler is (was?) a controversial American alt-tech microblogging and social networking service. As quickly as it rose to popularity, its fall was even faster. The app tried to be a haven for free speech, but became a hotbed for hate speech and conspiracy theories. The app was pulled from Google and Apple's app stores in early January and was removed from Amazon's hosting a few days later. At the time of publication, the app is still offline and courts are debating its future.
We only bring this up because, as a digital marketing company, we keep an eye out for new platforms and technologies. Not all shiny new technologies will be a good fit for your business. Look before you leap.
ADA lawsuits are here to stay.
On January 21, the Golden State Warriors got dunked on with a website-related ADA lawsuit. They're subject to a class-action lawsuit for not making their website "perceivable, operable, understandable, and robust" for people who have a disability or use adaptive technologies.

ADA lawsuits have been skyrocketing for the past 2-3 years. But let's be clear - you do NOT need to be a multi-million dollar organization to be targeted. Any public website is subject to double-A, WCAG 2.1 requirements. And the housing industry is especially subject to scrutiny.
We will be writing more on this topic in the next few weeks. But in the meantime, catch up on our previous articles about ADA compliance:
Reddit has entered the mainstream conversation.
You might have heard the word "Reddit" (pronounced "red-it") thrown around on the news lately, especially in regards to the stock market and GameStop. It occurred to us that, although Reddit is technically a social network, many real estate pros are not familiar with it. Despite being such a contentious topic right now, Reddit is not inherently bad or controversial, just niche.
Reddit is a discussion-based platform. There are forums for millions of different topics, called "subreddits." You might be hearing about the subreddit /WallStreetBets. But there are also subreddits for discussions about real estate topics: investing, commercial, technology, photography, etc.
Reddit can be a little rough around the edges, since it's all about talking to Internet strangers. There are rules and moderators, and one of the BIG rules is: no self-promotion. Check out Reddit to learn and discuss real estate issues with other realtors, just don't expect to use it as an advertising or lead gen source.
Bottom Line
The new year is on a "blink and you'll miss it" trajectory. Find some reliable sources of information (hopefully The Hot Sheet is one of them) so you're not the last to know about new online trends and platforms. And as always, think on your feet in terms of your real estate marketing strategy! If you need another set of eyes, the team at Listing Manager is always available to help you review your plans. Just email kr@joyceinc.com with any questions.