In May, Facebook announced that they would be changing their ad offerings for housing, employment and credit. These changes were designed to combat discrimination. The new requirement is now in full swing, and we want to help you combat the impact on your business.
Whether you're an agent, broker, or work with mortgages, you'll be subject to more strict targeting when you set up ads on Facebook. Here's the first thing you'll see when you try to set up an ad now: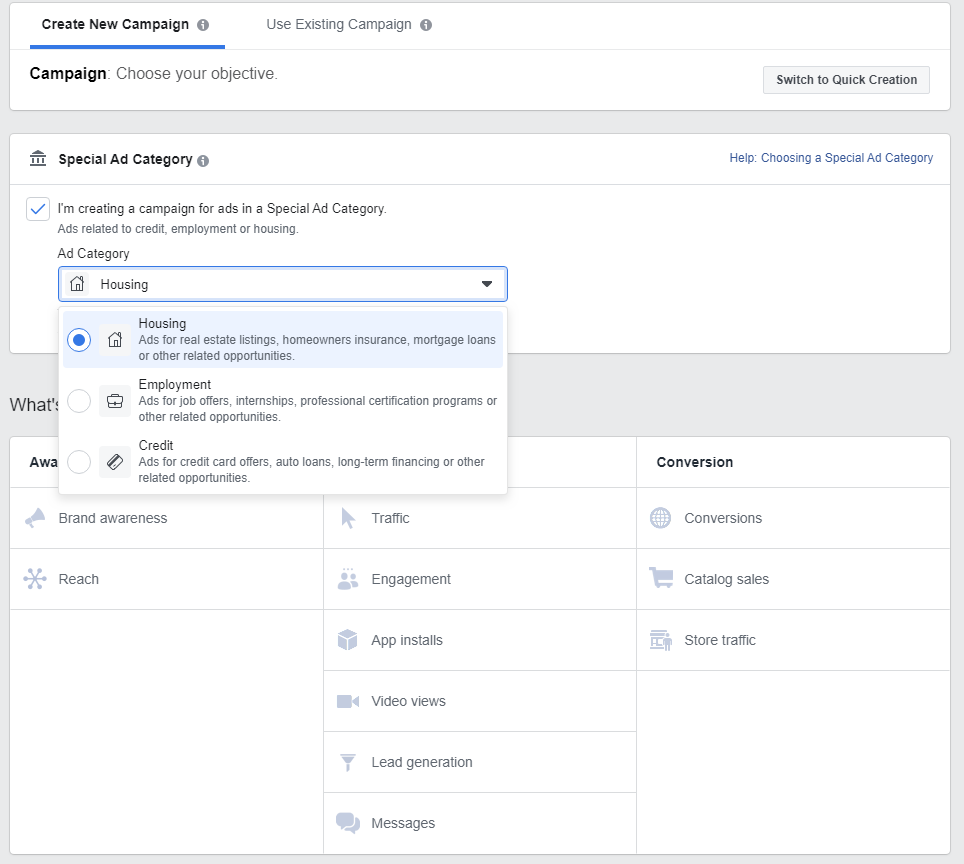 If you intend to run an ad that fits into one of these categories, you have to select that dropdown. Your other ad options will be filtered based on this choice.
What if I don't check the box?
Nice try. Facebook's artificial intelligence picks up on words like "house", "rental", "hiring", "job", "listing" and other associated terms. Your ad will get kicked into the "Not Approved" pile if you try to skirt the new rule. So take a deep breath, and check the box.
If your ad is legitimately not about real estate (say, you're hosting a community event not associated with your listings), then you can skip the checkbox. But there is a chance you'll still get flagged simply by virtue of being a real estate business page. If you do get flagged, request a manual review to see if you can get it approved.
How have targeting options changed?
Here's an overview of the differences.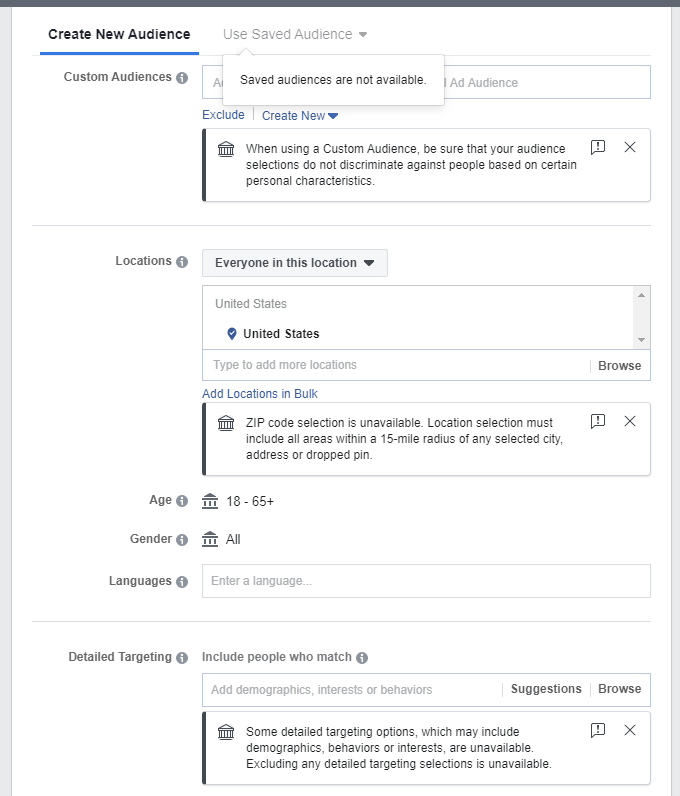 You cannot use Saved Audiences anymore, so the audiences you've created in the past can no longer be accessed.
ZIP code selection is unavailable. Location selection must include all areas within a 15-mile radius of any selected city, address or dropped pin.
Some detailed targeting options, which may include demographics, behaviors or interests, are unavailable.
Excluding any detailed targeting selections is unavailable.
You cannot edit Age or Gender.
Lookalike Audience ad feature is no longer available.
What about boosting a post?
We don't recommend boosting posts. It's just such a watered-down version of all the power you could have by using Ads Manager instead.
It's not clear whether boosted posts are subject to the same rules (although they should be). I am still able to see my saved audiences on real estate posts, and I don't see any notices about discriminatory targeting. That said, I'd bet that if I actually went through with a boost using the now-forbidden categories, it would not get approved.
What about Instagram?
Instagram is owned by Facebook, so Instagram ads are run through the Facebook Ads Manager platform. Therefore, Instagram ads should be subject to the same rules and changes as FB ads.
So what can I do now?
Go broad.
In the past, we've recommended getting as specific as possible with your ads and targeting. Now, we have to reverse that logic: make your ads more general, so that anyone could be interested in your ad.
For example, don't use phrases like "just listed in your neighborhood" because with a 15-mile radius, your listing might not be in their neighborhood. Think about how wide your net has to be cast, and create ads that are relevant to everyone.
Upload your email database to create a custom audience.
You know that spreadsheet of thousands of lead emails you've accumulated over the years? If you upload that to Facebook, you can serve ads to anyone whose Facebook login matches one of those emails. This is called a custom audience.
Facebook does warn, "When using a Custom Audience, be sure that your audience selections do not discriminate against people based on certain personal characteristics." But they don't have any way of policing your list of email addresses, so the burden is on you to play by the rules.
Use your pixel to retarget people who click your ads.
If someone clicked on your ad, you can assume they're at least a warm lead. If you're using Facebook Pixel, that user will get tagged as having visited your website. Now, you can create a second campaign just for people who were interested enough to click the first ad. So basically: go fishing with your first ad, and reel them in with a second ad.
Create a Special Ad Audience.
Advertisers can now create a "special ad audience," which is based on similarities in audience behavior without considering things like age, gender, or ZIP code. Give this a shot!
What other changes should I know about?
Completely unrelated, but equally as important. Facebook has moved the Post Scheduling option for some users but didn't tell anyone where it went (classic Facebook). Post scheduling and additional options are available in Publishing Tools and Business Manager.
Bottom Line
Facebook has installed new training wheels to keep real estate advertisers on track. Now there's really no way to break HUD rules, which actually is a good thing! It might take some practice, but you'll get the hang of the new rules and still be able to generate business from social media.