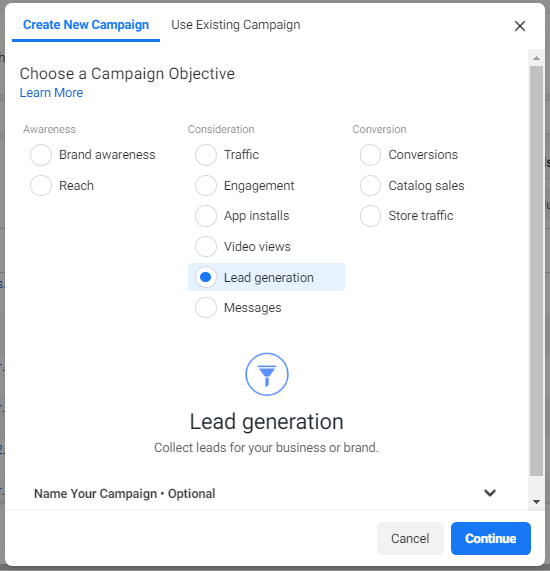 If a magical genie offered to grant you three wishes, what would they be?
Just a wild guess, but one of those wishes might be for more leads and listings. (Correct me if I'm wrong.)
It's the name of the game. It's the #1 thing our IDX website clients ask us about - and with good reason! New leads are the lifeblood of any sales cycle, but especially in the real estate industry. You can only work your friends and family for so long before you need to start branching out and adding some new faces to your sales funnel.
Growing your pool of leads is, of course, no easy task. While there is no silver bullet, here are a few avenues you might want to consider for acquiring more leads and scheduling more listing appointments.
Facebook Lead Ads
Lead Ads on Facebook are designed to get you information from interested parties, without interrupting the users' browsing experience. People can simply tap your ad and a form pops up—it's already pre-populated with their Facebook contact information and ready to be sent directly to you. With just a few taps, they can get the information they want, and you generate a lead for your business.
Here are our tips:
Make them an offer they can't refuse. Your ad has to offer a compelling reason the user would give you their contact info.
Ask the right questions. Try to keep the form short and sweet, but detailed enough that you have something to go off of.
Add a click-to-call option. Once someone completes a form, allow them to call your business right away to start a conversation.
Allow people to book with appointment scheduling. After someone fills out your form, they can also indicate when would be best for them to meet, decreasing the number of follow-ups needed.
One note of caution: Facebook makes lead ads so easy to fill out that not all of your leads will be top-quality. Heck, some of them might not even remember filling out the form. So add a little bit of friction to the form, like a review page or a slide-to-submit button, so the user has to put in just enough effort so that you only end up with high-quality leads.
Get more information about Facebook Lead Ads.
Google Lead Ads
Google Lead Ads are similar - the goal is to have the user fill out a form without being redirected to your website. For "Search" campaigns, lead forms can be added to campaigns as extensions. You can also create a webhook, which links your lead form to your customer relationship management (CRM) system and allows you to receive leads in real time.
One benefit of using Lead Ads on Google or Facebook is that you get the person's email address right away. That's the key to being able to retarget the user. So even if the user doesn't convert or call you right away, you at least have a few more ways of staying in touch with them.
Get more information about Google Lead Ads.
Facebook Community Groups
Most communities, neighborhoods and school districts have groups on Facebook. Just type the name of the target area in the search bar on Facebook, and request to join any that are relevant to you.
Once you've gotten access to a few groups, engage in conversations. They might just be discussions about when garbage night is or which restaurants are open for business. Nevertheless, it puts your name in front of community members and shows your authority in the neighborhood.
Alignable
Alignable is a social media network for local business owners. Like Facebook groups, joining this platform lets you interact with people in the communities you serve. It's a more personal way to engage than just plastering ads around the internet.
We wrote a whole series about Alignable. Check out "We tried Alignable. Here's what happened" and "Tips for Marketing your Real Estate Agency on Alignable."
Build Partnerships (in person or online)
Networking with other businesspeople can help you generate mutually-beneficial relationships. Think insurance companies, bankers, lenders, landscapers, staging companies, title companies, and even furniture stores.
You can even build a relationship with bakeries, restaurants, wine shops, or other local businesses by giving their products as gifts or hosting a happy-hour at their establishment. This kind of local alliance helps you build credibility and improves the chances that leads will come your way.
Appointment Schedule Apps
Apps like Calendly or Appointlet make it easy for people to schedule a call or meeting with you. While these systems won't necessarily generate more leads, they can at least help prevent drop-off. When people see how easy it is to book with you, they're more likely to take the next steps. You can add a link to these apps in your email signature, social media profiles, and Google My Business listing.
Here's how to add an "Appointments" button to your Google My Business listing.
Bottom Line
If your traditional methods of real estate lead generation are starting to sputter out, try some new ones! Try any or all of these methods to discover which generates the best, most-qualified leads in your local market. And if it doesn't work, adjust your approach or move on - there are always new methods to try.